Appearance

Edit
Personality

Edit
Rin has a protective and supportive personality. Rin can be very violent and get into fights (possibly caused by his demon side), but really has a kind heart. He supports his friends and tries to encourage and help them. He also seems very protective of Yukio, and aims to surpass him one day. Rin is clueless at times such as saying phrases wrong or thinking that the
Kraken
's fins are ears. Despite this, he is able to connect with someone's feelings to his own, such as
Shiemi Moriyama
's grief over her grandmother and
Ryūji Suguro
's ambition to defeat Satan. He's not the type of person for school or studying, though he was able to gain a junior high diploma and become an Esquire.
During the time of the
Blue Night
, when
Satan
, murdered a huge number of the world's greatest holy men, in order to find someone who he could possess without any ill effects to save
Yuri Egin
, who was going to be executed by the Vatican for being impregnated by him.
Shirō Fujimoto
and
Mephisto Pheles
were ordered by Yuri's father,
Ernst Frederik Egin
, to go find and kill her and Satan's children. They found Yuri within the forest with her newborn twins, whom she named Rin and Yukio, and she soon died of childbirth. Instead of killing the twins, Shirō decided to seal Rin's demonic powers within the demon-slaying blade
Kurikara
, and raise Yuri's children as his own.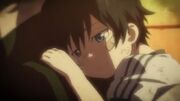 Beginning arc

Edit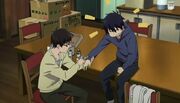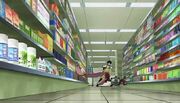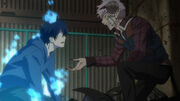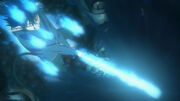 True Cross Academy arc

Edit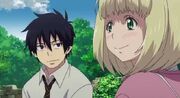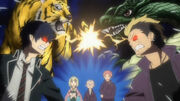 Training Camp arc

Edit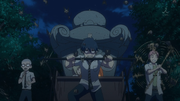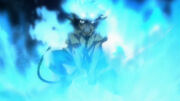 Mephisto Trial arc

Edit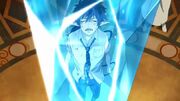 Filler arc (Anime Only)

Edit
The Impure King arc

Edit
This arc is exclusive to the manga and does not occur in the anime.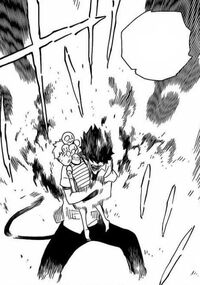 Shura, Yukio, and Rin arrive at a taped off section of the city. There is a demon on the loose that has stolen the left eye of the Impure King from the academy, as well as taken a child hostage. Saburota Todou, an upper second class exorcist in charge, tells the trio that a miasma (demon poison) is spreading from the scene, infecting civilians with fatal boils. While they are talking, the mother of the kidnapped child arrives and asks them how her son is. Rin reassures her that the child will be saved no matter what, to which Yukio intervenes and says that there is no definite guarentee that he can be saved. Rin confronts Yukio, asking why he would say such a thing. Yukio snaps at him, saying that Exorcists are not omnipotent and cannot always save everyone, and that Rin shouldn't promise that they can save him. In reply, Rin tells him that Yukio should not decide if he can be saved or not before an attempt is even made.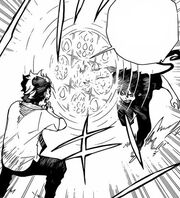 Rin continues to struggle during his training to control his flames but eventually was able to manipulate his flames at will once. Tensions rise when a traitor amongst the monks is discovered and Suguro demands answers from his father. Suguro argues with his dad which makes Rin remember how he told Shirō not to act
"fatherly"
before his death. Rin berates Suguro to apologize to his father. When Suguro refuses, Rin loses control of his flames exposing his parentage to the monks. Shura is forced to render him unconscious with an imprisonment spell. Rin is put in a prison where Shura gives him a letter from Suguro's father. The letter informs them and Yukio of how the sword
Kurikara
originally belonged to the monastery and that Shiro took it to kill kids (supposedly Rin and Yukio after they were born). He requests that Rin defeat the Impure King whose body is hidden in the temple as Rin's flames are capable of defeating him.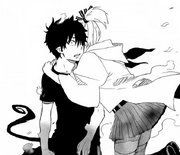 Powers & Abilities

Edit
Superhuman Strength

Edit
Since childhood, Rin has been physically stronger than most normal people his age, most likely because of his demon heritage.
Main article: Knight
Partial Demon Form

Edit
Fire Manipulation

Edit